Scrapbooking Ideas and Inspiration
Are you looking for scrapbooking ideas and inspiration? Are you just beginning to scrapbook and are looking for tips and techniques to get you started? Then you are in the right place.


Your family photos deserve to be organised, preserved, displayed beautifully and most of all to be shared.

Scrapbooking is a wonderful hobby that enables you to do just that.

Old photos, new photos and photos stored digitally can all be used to create memory albums that can be enjoyed by your family and friends for years to come.



There are many options for your scrapbooks:
You can create layouts on individual pages and store them in page protectors in an album.
You can make your own albums - Mini scrapbook albums are a fast and fun way to scrap events and they are great for experimenting with new techniques.

How about producing digital scrapbooks that can be shared immediately online with family and friends.

Ideas for Albums
An album can be put together organically - just create layouts using photos that grab your interest or scrap your pictures as you take them. An album like this will be a mixture of everyday events and special occasions - you may or may not choose to arrange your layouts chronologically within the album.
Another method of making an album is with a theme or occasion in mind. 
Have a look at some of my scrapbooking ideas - they include ideas for family, weddings, anniversaries, school memories, babies, pets, travel, Christmas, holidays and heritage scrapbooks. 
Scrapbooks created around a theme make a beautiful and unique gift for many occasions.
Tips and Techniques
You may be new to scrapbooking so I have included pages with tips and techniques to get you started - I must issue a warning here - once you start, it is very hard to stop! 
If you want your scrapbooks to last a lifetime and beyond, it is important to use acid and lignin free materials.

You can however scrap your images with materials that may mean your album/ book doesn't last as long, but can still be enjoyed for many years. Many photos are now stored digitally and can be printed as required and so can be scrapped using non traditional materials and methods. 
Smash books are one such way of using photographs, ephemera, journalling, art and doodles to  preserve memories and store ideas, and so share many features with scrapbooking.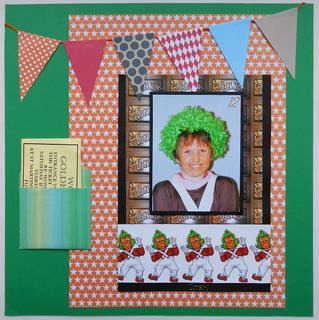 Tools and Supplies
You can find details of all the basic tools you require - pens, papers, cutting tools and adhesives. I have included information about some of the wonderful supplies you can use - stamps, stickers, die cuts, punches, embellishments etc.

There is a whole world of scrapbooking out there - it is such an enjoyable and enriching hobby.
Take a look at my scrapbooking ideas and hopefully they will inspire you to dig out those photographs and get scrapping.
                Click on one of the links below for ideas and inspiration.
Scrapbooking Ideas > The PaperCraft Room