ScrapYour Trip
Would you like to 'Scrap Your Trip' ? Are you looking for ideas and inspiration to preserve your memories from vacations and day trips?
Travel scrapbooking provides you with plenty of opportunities to have fun creating fabulous layouts and albums - whether you are scrapping a vacation, day out or trip of a lifetime.
Taking Photographs
When you take photos on your trip consider how you could use the images on your pages.
Capture the small details and also the wider views or bigger picture.

Try and capture the essence of where you are, by not only taking pictures of the famous landmarks and views, but also snapping the smaller details e.g. red buses and black cabs in London.

To help provide labelling in your layouts try and include place names in your images e.g. road signs, entrances to attractions, station signs and tourist signposts.
Remember if you are the main photographer to ask someone else to take photos occasionally, so you are also included in your memory albums - I hardly ever feature in our family snaps!
Scrap As You Go
You could try using a travel journal or smash book to 'scrap as you go'.
You probably won't be able to print off your pictures on your trip, but you can collect and store your travel ephemera in the pockets of a journal.
If you make your own journal or smash book you can create blank layouts with spaces for photos and journalling. You can include plenty of pockets and make photo mats to go in them. Then when you are on your trip you could do some journalling on your pages and record the details of your holiday whilst they are fresh in your mind.
When you get home you can print off your pictures and add them to your book.
Scrap Your Trip
You have the option of creating a traditional scrapbook album, with individual pages, a mini album or digital album of your trip.
Collect and include your travel ephemera - entry and travel tickets, menus, receipts, postcards, leaflets, maps, coasters etc - from your trip. If you are creating digital pages you can scan the ephemera to use it in your layouts.



You can buy travel themed papers, lettering, stickers and embellishments that may be suitable for your pages, or you can adapt and use supplies you already have.

The tartan papers I used in my Scotland layout are from the Docrafts Papermania 'Christmas in the Country" range.
Maps also make good backgrounds for your layouts, so remember as you travel to look out for free street maps of towns and cities and maps inside brochures. If you are going on a road trip or visiting a few places you can mark out the route on a map and include it in your scrapbook. Pinpoint the sights you have seen on a map and link them on the page to the images you captured of that place.
Be imaginative and use unusual, relevant quotes and titles for your pages. Look at the brochures and leaflets you collected on your trip for letters and words that you might be able to use in your layouts.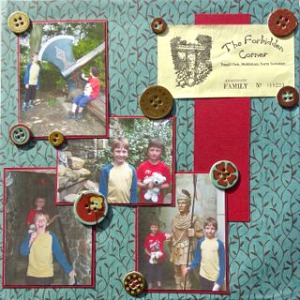 You don't have to wait for long vacations or holidays - days out also provide great opportunities to 'scrap your trip'.