Paper Craft Supplies



Paper craft supplies - there are only a few basics needed to start paper crafting. As you get into the hobby you may want to experiment and create with the many exciting tools and materials available.


If you are already an avid paper crafter you probably have boxes, cupboards or even a room full of equipment, tools and materials.

I think there is no such thing as too much paper…. but thankfully paper crafting is a hobby that you can start inexpensively.
You may already have some of the basic tools and you can start with a small supply of card and paper. You can supplement any bought materials with recycled papers, card and embellishments.
Basic Paper Craft Supplies
Paper:
Start with plain white and colored papers and from there build up a stash that suits your paper crafting requirements. You can recycle brown paper packaging and tissue papers. I use old envelopes and brochures in my bookmaking. 
There are specialist papers for all your paper crafting projects : acid and lignin free scrapbooking papers, handmade papers, vellum, crepe and tissue, origami papers etc.
Card:
Card stock is available in different thicknesses. I use a medium to heavy weight for making cards so they are stable, especially when I add a lot of embellishment. For 3D decoupage I use a lighter weight so I can shape the edges. Card also has different surfaces. I like to use smooth card for stamping, coloring and printing on. Textured surfaces add variety to your projects.
Adhesives:
You can start with a glue stick and pva glue and then buy other adhesives as you need them. Useful adhesives to buy are 3D foam pads or tape, double sided tape - regular and the super sticky red tape, low tack tape and silicone craft glue.
Scissors: 
You can manage with one pair but it is useful to have different pairs for different jobs.
A large pair for cutting sheets of paper. Small ones for finer jobs - decoupage scissors are good for this. I keep one pair of scissors just for cutting sticky stuff e.g. foam pads and red double sided tape, so I don't get my paper cutting scissors sticky.
Craft knives: 
I mainly use disposable, retractable knives. When the blade is blunt you just snap it off and the new sharp one is ready to use. A fine tipped scalpel knife is useful for cutting out fiddly and tiny shapes.
Ruler:
I recommend a clear metal edged ruler, try and find one marked with centimetres and inches. A ruler without a metal edge will get cuts and nicks in it when you cut along its edge.
Cutting Mat:
These are necessary to protect your work surface if you are cutting with a craft knife. You can buy rubber self healing mats or glass mats. A larger size is useful if you are going to cut 12 x 12" papers.
Bone Folder:
This is a small plastic tool used to make folds in card. See instructions here for scoring and folding. You can use an alternative, for example a toothbrush handle or the back of the spoon.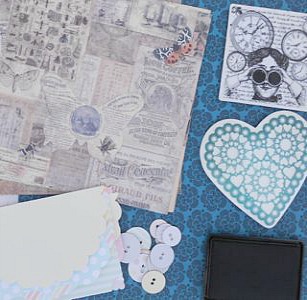 Paper Crafting Extras
Once you have your basic paper craft supplies there are many extras you might like to buy that enable you to try different techniques.
Some of my favorites are:
Scoring Board - An incredibly useful piece of equipment which is used to measure and score lines on paper and card.
Stamps - rubber and acrylic - used to create toppers and images for scrapbooks and handmade books.

Ink Pads - to use with your stamps. I also use Ranger Distress ink pads to ink page edges and create backgrounds.

ProMarkers - I use these to color my stamped images. 

Die cutting machine - an expensive purchase but I find mine incredibly useful for cutting shapes and embossing paper and card. I use a Sissix Bigshot.

Scrapbooking Pens - it is important to use acid free pens in your journalling so your writing doesn't fade over time. 

Heat tool - used to dry surfaces quickly when you are using wet techniques and to heat emboss.
Embossing powders - these are sprinkled onto a wet inked surface or image and then melted with the heat tool to create a raised decorative effect.
Hot glue gun - these work by heating up a glue stick and then the glue is applied by squeezing the trigger on the gun. They can be messy and the hot glue can burn if you get it on your skin straight out of the gun, but they are very useful when making 3D paper creations or applying heavier embellishments.

Zutter Bind it All - for binding books and albums. Definitely not a necessity but my favourite paper craft is making books and albums. The Bind it All gives me a useful extra bookbinding method.
Other paper craft supplies to consider:
Tools

crop a dile

blending tools

brayer

craft punches

stencils

envelope maker

ATG tape adhesive gun

stencils

paper trimmer

Materials

gesso

watercolor pencils

glitter

ribbons

stickers

buttons

stencilling pastes

inks

colored glues



Click on one of the links below to find information about paper craft supplies.