3D Decoupage Instructions

My 3D decoupage instructions will provide you with the basics you need to begin this fun paper craft technique.
3D Decoupage involves cutting out and building up layers with an image to create a 3D effect. I use this technique in making cards and pictures.
Supplies
A 3D decoupage sheet - these can be bought from a craft store or downloaded from websites or a craft CD. Or you can create your own decoupage using an identical set of images (a minimum of 4-5, though you can use more). You select the parts of the image you want to use to create layers.

A scalpel type craft knife eg an x-Acto knife or decoupage scissors.
A cutting mat - if using a craft knife.
3D foam pads or craft silicone glue.
Optional - a pair of craft tweezers ( I do manage without)

3D Decoupage Instructions
If using a commercially produced decoupage sheet the layers are sometimes numbered so you can see the order in which the decoupage will be assembled.

Cut out the images.

If you are using your own images keep one complete as your base image.Then choose how you would like to build up your layers and cut them out. You usually keep less of the original image with each successive layer.

You can create your decoupage by using the layers flat or you can shape them to produce a more rounded effect. I sometimes shape my layers by curling the edges over the blunt rounded edge of my scissors. There are shaping tools available to buy.
Take the first layer that is to be applied to the base layer. Either apply 3D foam pads or silicone craft glue. I apply silicone glue in raised blobs using a cocktail stick. 
Then stick the layer to the base image. With 3D foam pads just remove the pad's backing and carefully position the image and press down to fix in place. When using silicone glue, you again position the image carefully, but only lightly apply it, so that the silicone isn't squashed down flat but remains slightly raised
| | |
| --- | --- |
| Using 3d Foam Pads | Using Silicone Craft Glue |
When working with 3D foam pads you can apply the next layer immediately. When using silicone glue I wait a few minutes between layers to avoid flattening the glue I have already applied.
Continue working this way through all your layers until the decoupage is complete.
Pyramage
Another type of 3D decoupage is pyramid decoupage or pyramage. With this method you use a set of identical images cut into progressively smaller sizes. These are then layered and stuck down with 3D foam pads or craft silicone glue.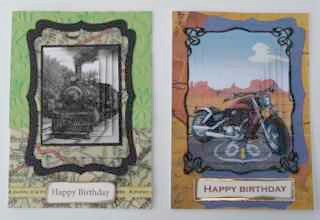 3D Decoupage Instructions > Techniques > The PaperCraft Room